How Will You Know That You're Ready To…
As an author, you'll be answering a lot of questions in your book.
It's how you'll share your trials and triumphs, your losses and lessons.
And it's precisely your sharing that gives your readers the insight, inspiration, and wisdom they desire and need to craft more fulfilling lives.
Before that can happen, you need to answer the first and most important question.
Am I ready to write this book?
---
Reasons People Don't Write Their Book
Let's start by looking at why people who actually want to, never write their book.
It's estimated that 80% of people in the US want to write a book. However, only approximately 1% of those who want to actually do.
That leaves 79% who never satisfy this longing to make their story known.
Which one do you want to be?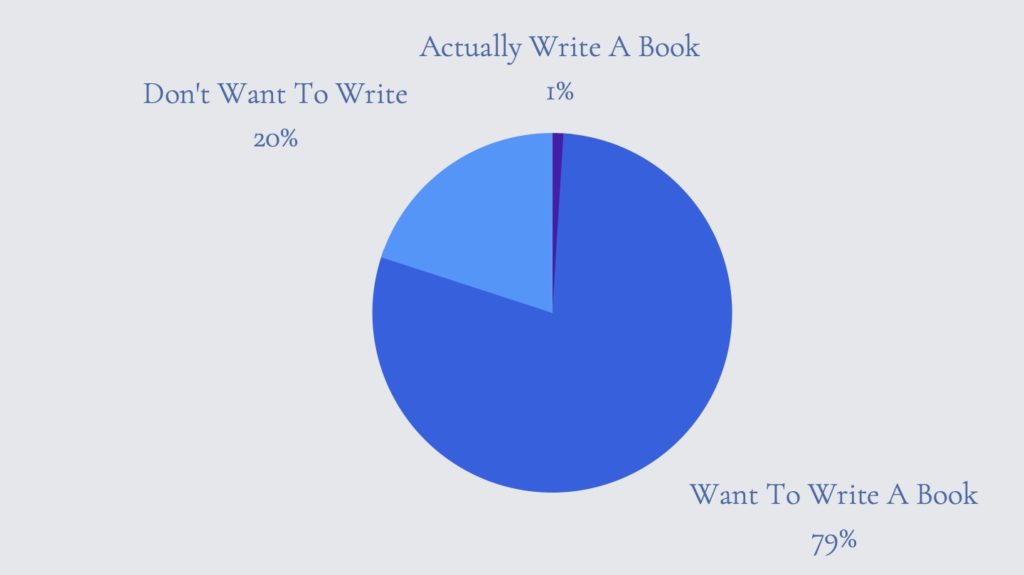 ---
Why People Don't Write Their Book
There are lots of things that get in the way.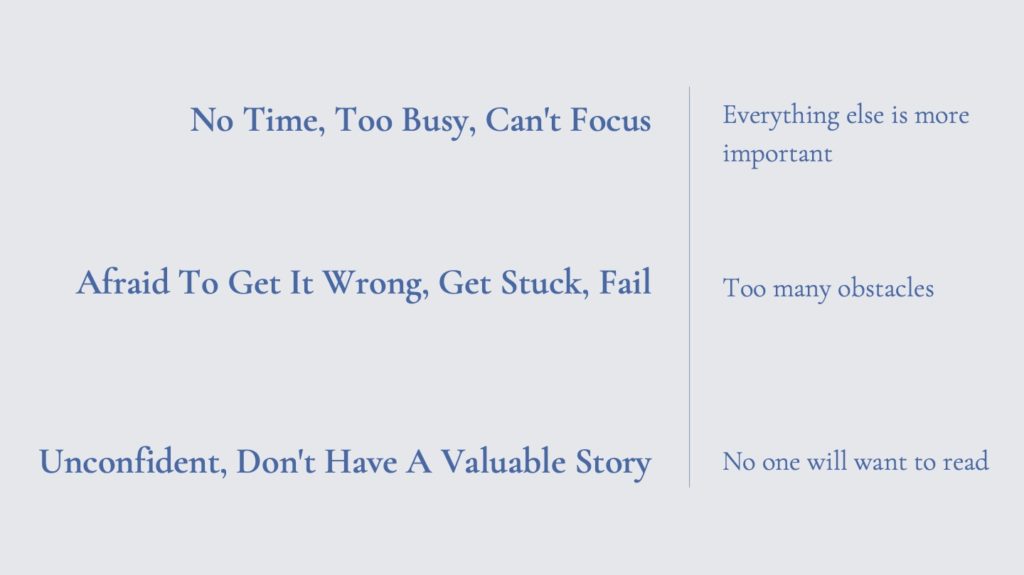 ---
Why Write Your First Book?
If you're a Coach, Creative, or Changemaker, your story is a powerful way for you to serve.
Your book is how you tell your most impactful and relevant story.
It offers an easily accessible space for current and future clients to spend time getting to know you.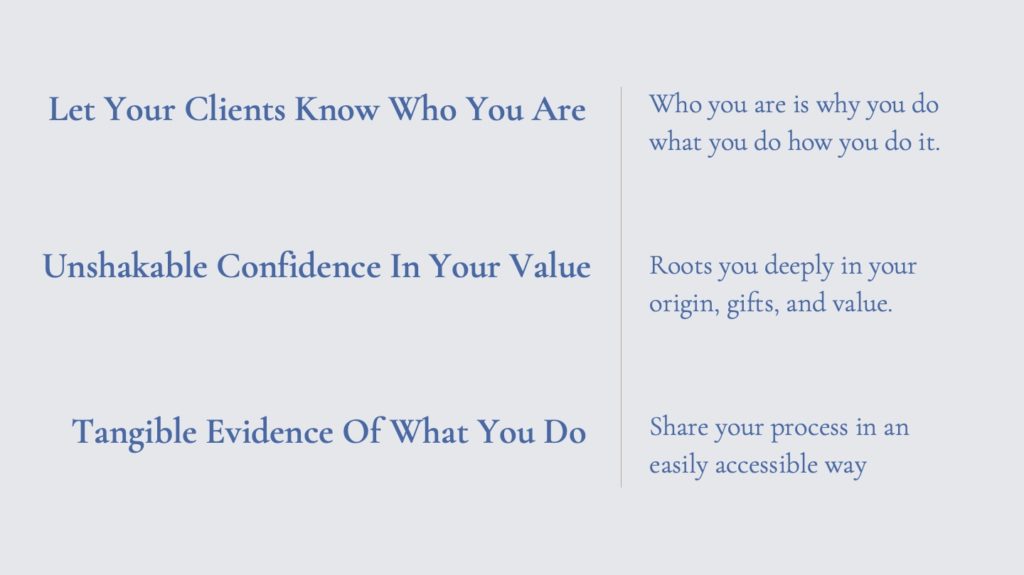 ---
Your Benefits Of Writing Your First Book
In addition to providing insights, inspiration, and wisdom to your clients, you receive a rich array of benefits as an author.
These are just a few.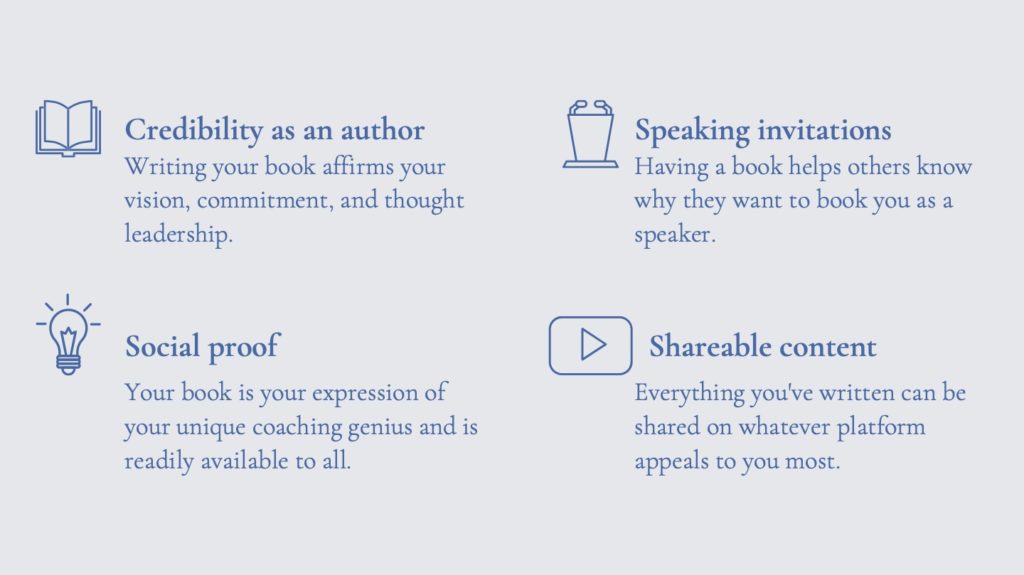 ---
How You'll Know You're Ready
You're probably wondering how you'd know whether you're actually ready for this momentous experience.
Check within and see if you notice any of these thoughts or feelings showing up.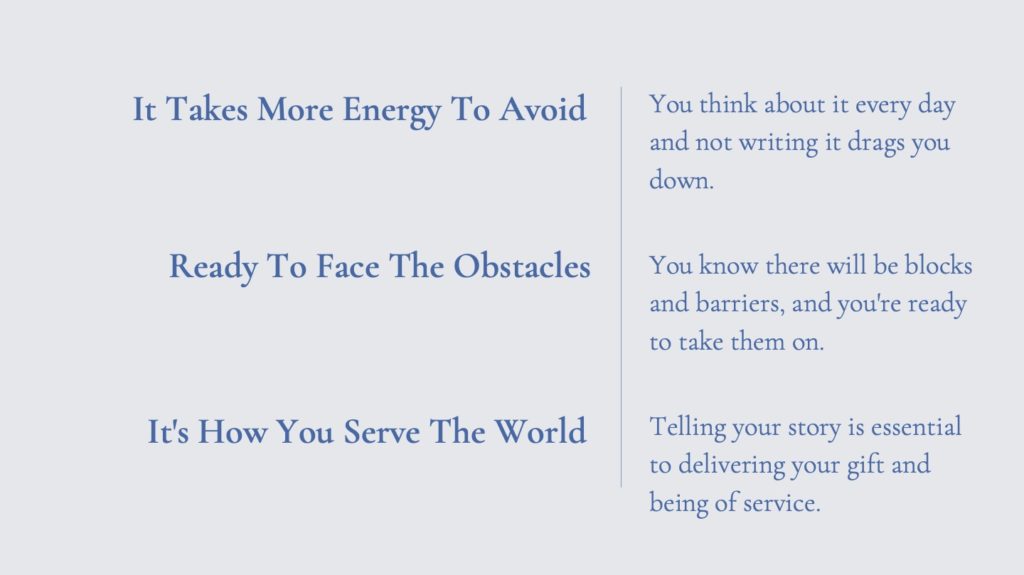 If it takes more energy to avoid writing than it would just to sit down and write, that's a signal that you're ready.
If you understand that no journey is without obstacles and you're willing to face them, that's a sign that you're ready.
If your desire to serve the world is stronger than your fear…that tells you that you're ready.
---
How You Know You're Ready To Work With A Guide
So, now you know that you're ready to commit with your heart, body, and mind to
achieve clarity,
find meaning, and
claim the value of your life's story.
Next, you'll need to decide whether to go it alone or enlist the aid of a guide.
There are clear signs that you're ready for the support, encouragement, and resources that working with a guide makes possible.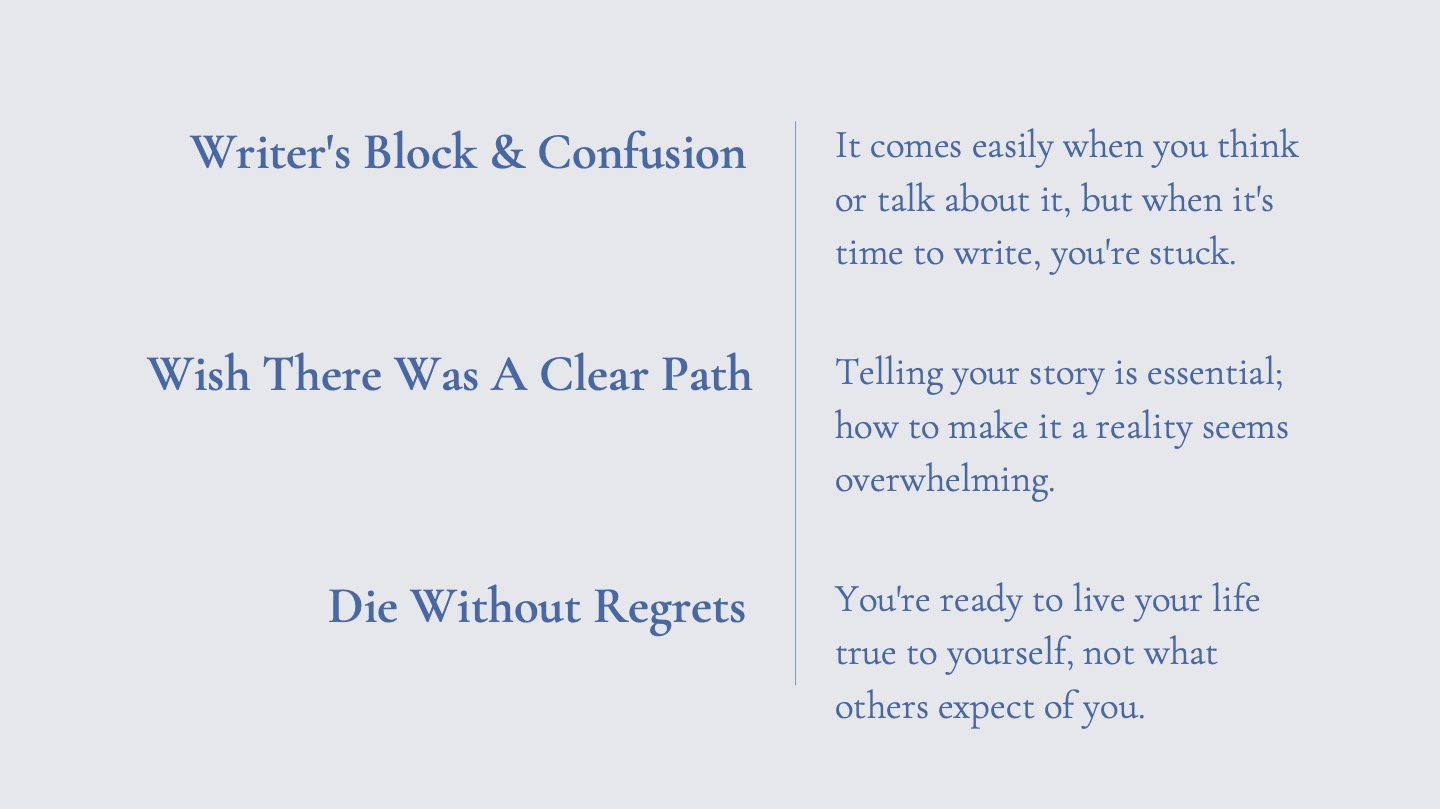 If any of this sounds true for you, you'll benefit from working with someone who understands the journey and the steps it takes to get where you want to go.
You'll have what you need to avoid writer's block, instead of avoiding writing.
You'll enjoy the assurance of seeing the path ahead of you clearly.
And, you'll delight in the knowledge that you're living your most powerful life.
---
Start At The Beginning…
This is a proven, clear path to writing your book.
It makes it possible for you to…
achieve clarity, find meaning, and claim the value of your life.
It makes it possible for you to show up in the world with all of your brilliance and beauty.
And, I believe that the more each one of us shows up in this way, the greater and more enriching our impact will be.
I'm honored and delighted to be able to offer my support on your journey to becoming an author.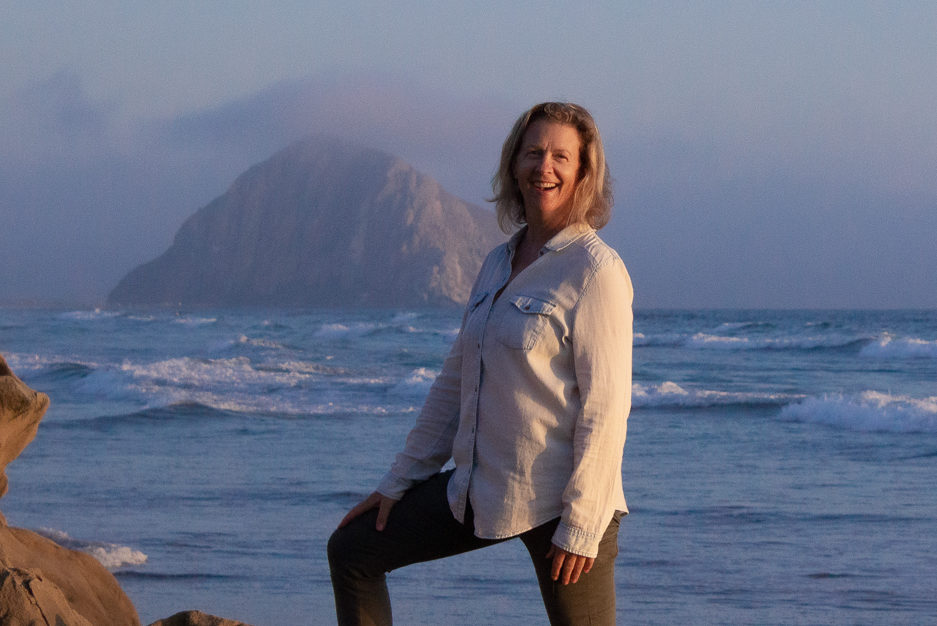 I've walked this path myself and know how great the rewards can be.
If you want to get started, make a Virtual Coffee Date With Me.
We'll chat for 20 minutes and get to know one another a bit.
(just click on the coffee cup)
Once we chat, I can tell you if what I offer is a good fit for where you want to go.
If we're compatible, our next step will be to set up a one-hour, no-cost consult and you can learn everything you need to know.
After that, it's up to you to take the leap and explore the rich world of authorship.
Trust me, there's a beautiful destination waiting for you just beyond the horizon.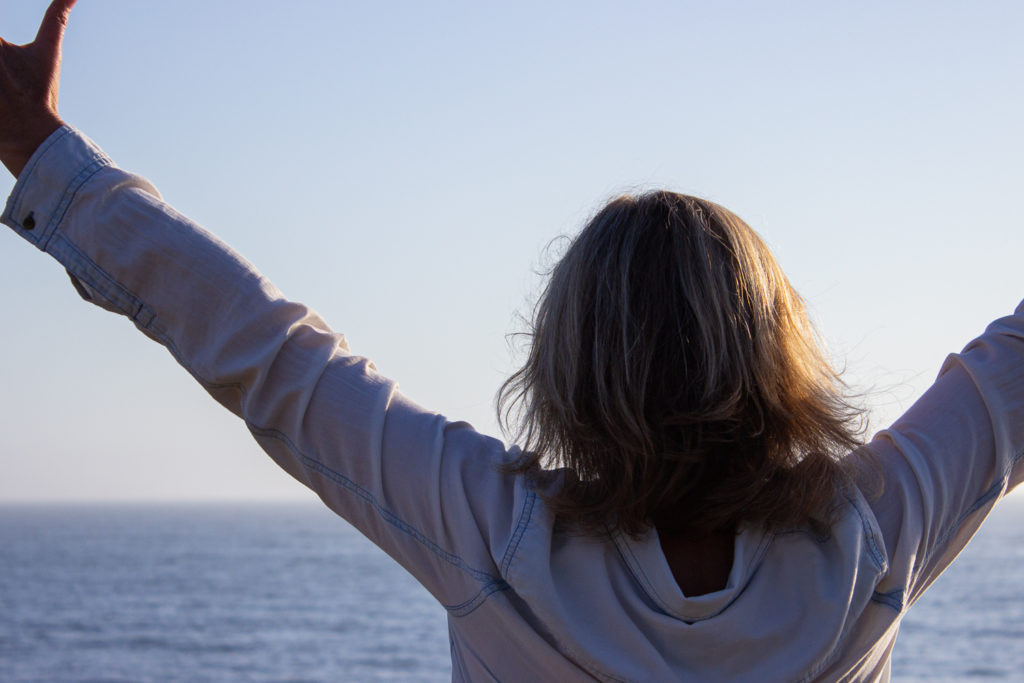 ---
My Gift To You
Receive a free excerpt from my book, Love Lies Beneath: How reclaiming my Soul through Story became the secret to healing my Heart.
The pdf will arrive in your inbox. If you don't see it within 5 minutes, check your Spam folder. If you have Gmail, be sure to check your Promotions tab. If you have any questions, email me at Zette @ ZetteHarbourCoach.com.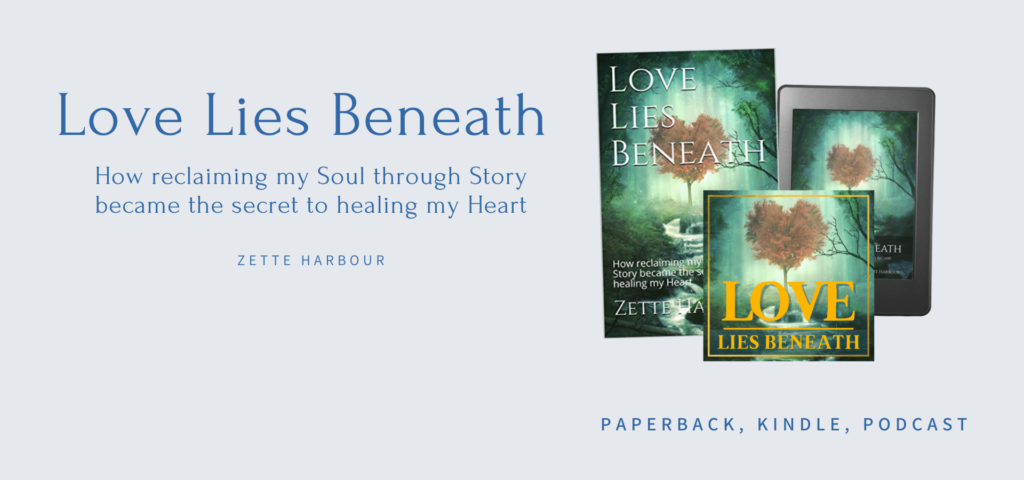 ---